Our 2007 Litter is Placed..
~
Our next litter is planned
for
2008
and will be out of
~
Wavecrest's Beyonda Legend RN CGC
aka...mic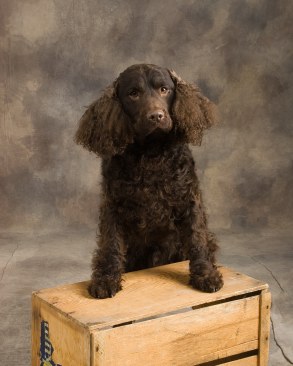 MIC
and
Wavecrest Legend's Flash Dance
aka....Flash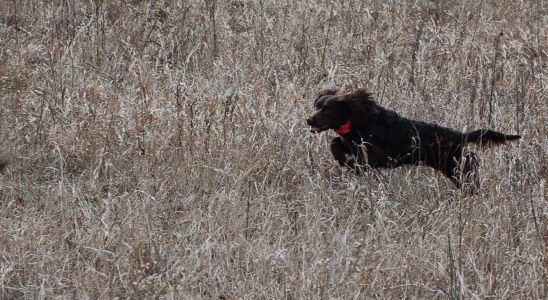 FLASH
~
Mic
is a
Piper
(Ch Wavecrest's Bonzai Pipeline CGC TT TDI)
son
out of
Trace
(Int Ch. Int BIS AmCh Wavecrest's Trace The Legend)
~
Flash
is out of a
Strong and Titled Hunting background
*
Twist
NAHRA WR California Wine Country Twist CD CGC
and
Penny
Wavecrest Easy Go Lucky Penny
*
Penny goes back to our
Original Foundation Stud
Calvin
Please contact us for more information
regarding this, or other upcoming litters!
~
ANNOUNCEMENT!!!
TWO LITTERS
out of
Wave Crest
Girls
are planned
for the
Fall of 2007/Spring of 2008
~
1. WaveCrest Surfvin Stanley and WaveCrest's Mocha of Little Egypt
Contact:
Tony and Deshona Loyd
1-618-889-7011
tonycrete@aol.com
2.. Edie's Brutus Orion and WaveCrest Surfin Wailea Bay
Contact:
Lora and Tom DeSombre
1-920-467-4855
shambre@bytehead.com
All Dogs/Bitches are out of AKC/UKC Champion and Obedience bloodlines with STRONG and Titled hunting backgrounds
They have OFA certified Hips and Heart and are CERF cleared
Please feel free to contact me
or
The owners of the Girls.
~
Born
on
July 2, 2004
3 boys & 3 girls
~
Ch. Wavecrest's Bonzai Pipeline CGC TT TDI
to
CH. Wavecrest's Trace the legend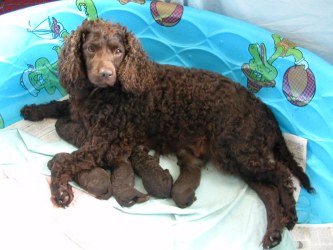 Trace and babies
~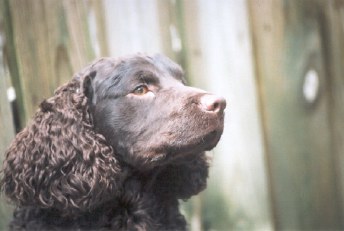 Wavecrest's Beyonda legend RN CGC
aka
Mic
at 10 months
Out of Piper and Trace's '03 litter
~
Currently in Agility Training
~
This litter
was
Born
~
July 8, 2003
4 Boys, 1 Girl
~
These outstanding pups were sired by
Ch. Wavecrest's Bonzai Pipeline CGC TT TDI
and out of
Ch. Wavecrest's Trace The Legend...
~
Meet our
2003 litter...
Piper X Trace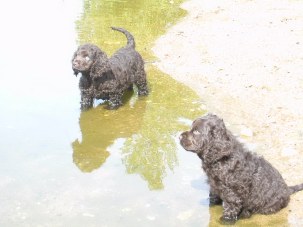 Water Work...
7 Weeks Old..
Making New Friends!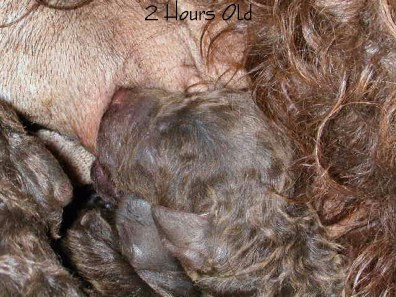 2 Hours Old.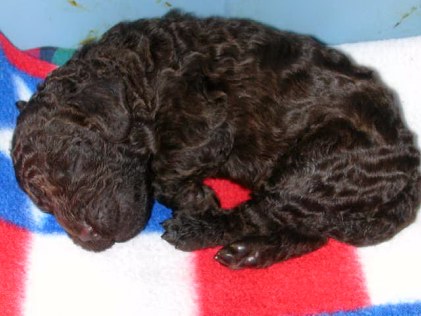 1 Week Old






Ch. Wavecrest's Bonzai Pipeline CGC TT TDI

To

Ch. Wavecrest's Trace The Legend


Piper has good bone, a dense curly coat and a very willing nature. He excels in the field. He has produced some outstanding pups in the past, which include several Hunt Test Title holders, National Specialty High In Trial winners, Mexican Champions and Obedience Title holders, and Storm...the youngest AWS in breed history to finish his championship and the Best Of Breed Winner at the 1998 Westminster Kennel Club Show in New York City. Piper also was the Pedigree Top Producer for 2000 and the Winner of the 1996 Stud Dog class at the AWSC National Specialty.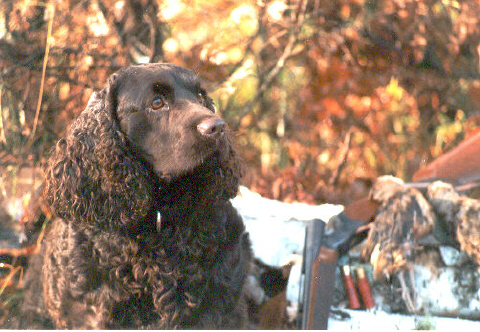 Ch. Wavecrest's Bonzai Pipeline CGC TT TDI
Trace is a fourth generation Wave Crest dog. She has an outstanding personality and is lightening fast in the field. She started her show ring career at 6 months, taking back to back Best of Breeds and also gaining a Group 4 the same weekend. She is the youngest AWS in breed history to get a Group placement. She finished her Championship at 10 months out of the puppy classes. She also had a Group 1 by one year of age. She finished her first year out as a Show Dog as the Number One Bitch All Breed.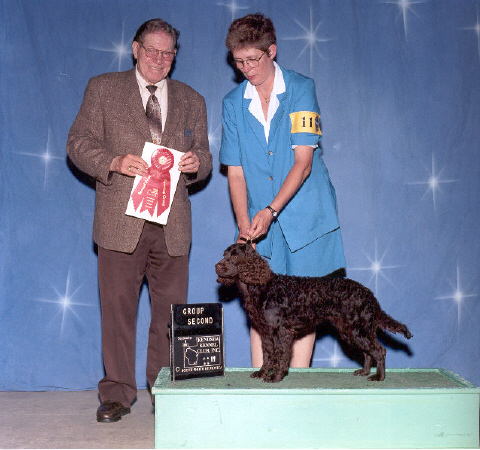 Ch. Wavecrest's Trace The Legend
Contact us for more information on the 2005 litter!
Please enjoy these photos of the Quincy X Surf litter from 2002
They were born July 4, 2002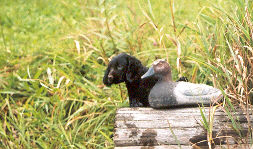 Training Camp!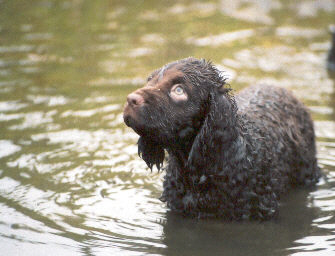 Water Dog
Wave Crest Pup at 7 weeks

This Outstanding Litter was sired by Ch. Beau's Kennebec Quincy Adams SD. and out of Ch. California Wavecrest's Surfr CGC.




All of these pups retrieve naturally and have a strong drive in the field.

I am sure that you will be proud to hunt with a Wave Crest Pup, compete in the show ring or in obedience or agility,

or,

most importantly,

Share your life with one of our

American Water Spaniels!