We are Very
Pleased to
Announce
That Multiple Photos
Of Our dogs
Were used in the
New Book..
American Water Spaniels
by
Paul Morrison
We are also
very honored
that a photo
of
Ch. Wavecrest's Bonzai Pipeline cgc tt tdi
was used
as a lead photo for
The December, 2006 AKC Gazette
article on the AMerican water spaniel.
Several other Wavecrest dogs were also included in the article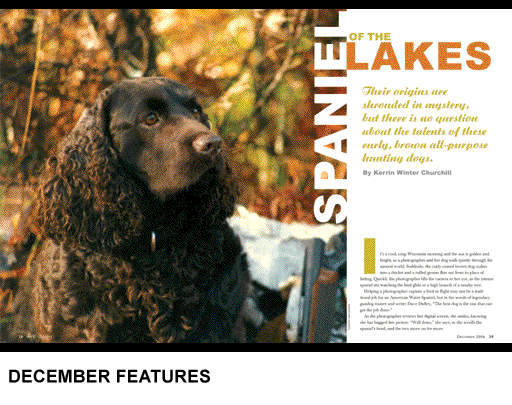 ~
AND
2 Piper sons
got 2 new titles!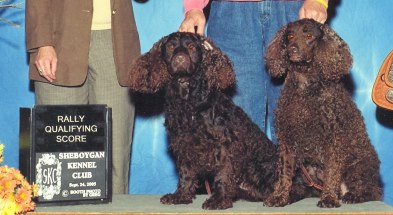 3 SHOWS...
3 LEGS....
2
NEW
Titles!
Congratulations
To
Ch. Wavecrest's I Of The Storm RN CGC TDI (at age 11)
and
Wavecrest's Beyonda Legend RN CGC (at age 3)
~
Wave Crest
Is Also
Very Proud
To Announce...
2
New
International Champions!!!
and
an
International Best in Show!!!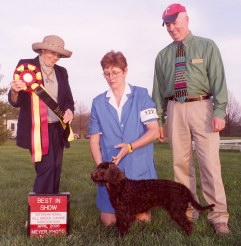 INT BIS/ INT/ AM Ch Wavecrest's Trace The Legend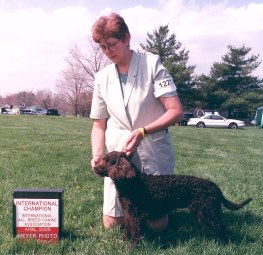 New
Int Champion/ Am Ch. Wavecrest's Trace The Legend
and
New
International/National/American Ch. Wavecrest's Chance Of A Legend CGC
and
Mic made a new friend....
My 5 year old nephew
SAM...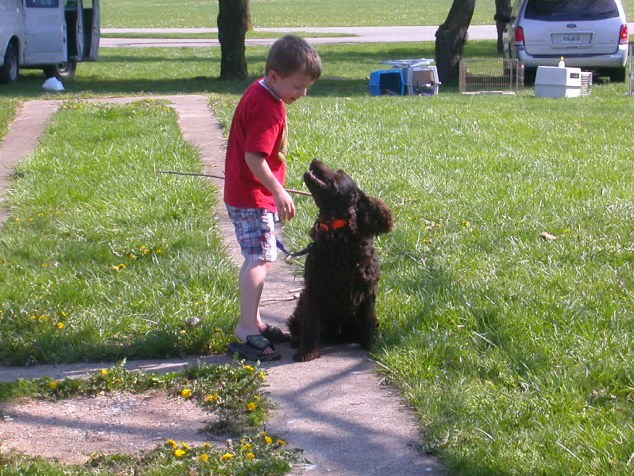 Future Junior handler!!!

ESPN 2
and
Barrett Productions
just produced a series on
how to select the perfect
Sporting Dog for a family......
They featured
Wave Crest American Water Spaniels
as
the
American Water Spaniel portion!
Look for us on ESPN 2!!!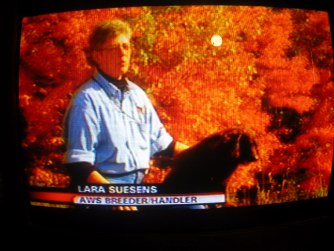 Lara and Storm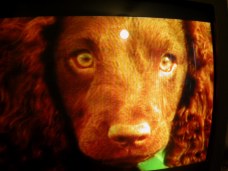 leah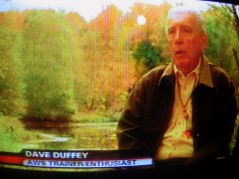 They also featured
Dave Duffey,
Author, Trainer,
and
Long time friend
~
Dan Small,
Author and Television Host
did a segment for
Public Television
that was aired in
2004
and did an article for
Wisconsin Outdoors News
Article from Wisconsin Outdoor News.
January, 2004
~
CH. Wavecrest's Trace The Legend
Won
Best of Breed
at the
2004
American Spaniel Club
Annual Flushing Spaniel Specialty Show
CH. Wavecrest's Trace The Legend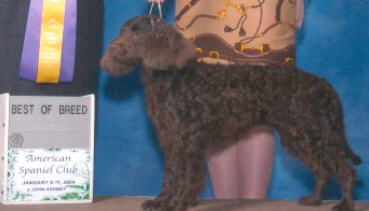 In Addition...
We are Very Proud to Announce....
That a photo of
Wave Crest Puppies
was used in the June, 2003 issue
of
Dog Fancy!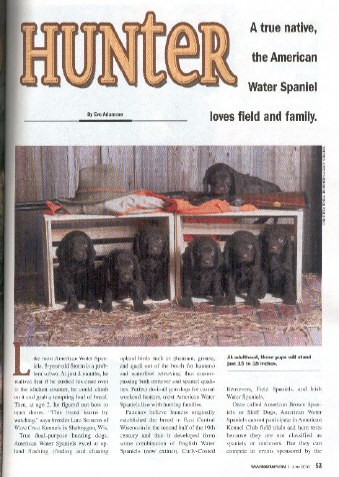 Contact us for more information on our 2006 litter.




We are very proud of the dogs that we produce at Wave Crest.

We are also very proud of the dogs that have been sired by Wave Crest dogs.

They hold AKC and UKC obedience titles, AKC Championships, American Temperment Test certification, Therapy Dog certification, Canine Good Citizenship certification, NAHRA titles, UKC-HRC titles, AWSC hunting titles and AWSFA hunting titles.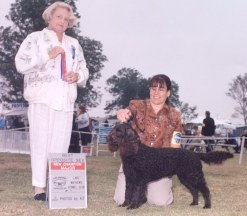 Rebel was sired by Ch, Wavecrest's Bonzai Pipeline CGC TT TDI. Rebel not only holds a Championship...he is a new AKC Utility Dog!


Recently, a British Veterinary software company has used a photo of one of our dogs to illustrate a new program that they have produced on Canine Breeds.

In addition an Italian publishing firm has used photos of our dogs to be used in an upcoming book.