We are located in Sheboygan, Wisconsin. Wisconsin is considered by many to be the birth place of the American Water Spaniel. In fact it is The Official State Dog.

We are not a large commercial operation. Puppies are born in our guest room and raised underfoot in the kitchen and the dining room in a loving and enriched environment.








We are very careful and do alot of pedigree research and actual looking before we make a decision to breed. We also do health clearances. Our dogs are all OFA'd and/or PENN Hipped normal. We also have a certified Veterinary Ophthalmologist exam the eyes of our dogs to determine if there are any inherited defects that would keep them from seeing. In addition, we test for OFA Cardiac. All of our dogs have tested with in the normal limits.

I am employed by four Veterinarians here in Sheboygan as the Behavior/Training/Reproductive/NeoNatal Counselor. As soon as pups have had their first series of vaccinations, they go to work with me where they meet big birds, small horses, lizards, snakes, bunnies, rats, cats, other dogs and folks of all sorts.



Wave Crest Puppy and Brenders, our Pomeranian.


We start pups on wings at about 4 weeks.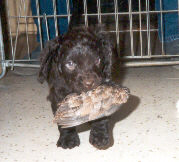 And try to have them on birds at about 6-7 weeks.





If the time of year is right, we also have them in the water.





I am confident that you will be proud to hunt with our American Water Spaniels, show them in the breed ring or in obedience or Agility or most importantly...share your life with them.